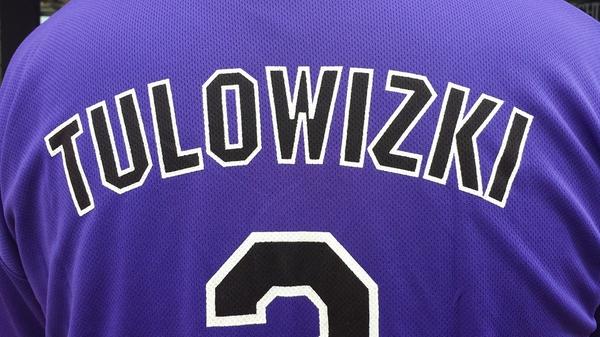 Last night the Colorado Rockies were giving away Troy Tulowitzki t-shirts before their game.  Unfortunately for the Rockies and some poor soul in the PR dept (which potentially in turn is the Colorado version of the First Lady) they went to the Straight From The Arse school of spelling and forgot to check the proper spelling of the Rockies' all-star shortstop.
So instead of celebrating Troy Tulowitzki everyone celebrated Troy Tulowizki.  A free shirt is a free shirt I suppose but a major blunder non the less.  (Especially when you are giving away 15 000 of them)
Subsequently the Rockies have released the following statement:
Our sincere apologies to the fans for the misspelling of the Troy Tulowitzki King Soopers jersey that was distributed tonight.

Acknowledging that many fans came to the game for the jersey, rather than disappoint them, we decided to go ahead and hand them out.

We have made plans to reproduce the jersey and fans wishing to exchange will be able to do so at a future date (TBD) in September at Coors Field or the Rockies Dugout Stores. In addition, fans exchanging the jersey will receive a complimentary ticket to a future game in 2014 or 2015.